Dumpster Rental Brick NJ
For the best dumpster rental Brick NJ has to offer, say hello to TSF Disposal, your go-to choice for waste removal services! Our locally owned and operated company is here to handle the waste so you can focus on the task at hand, whether that's a full-blown home renovation, a simple garage cleanout, or a large-scale development project. We're fully licensed and insured, offering a range of dumpster sizes to fit all your needs. We proudly serve
Brick, New Jersey
, and the surrounding areas of Ocean County, providing top-notch rentals for all of your waste disposal needs, big and small.
Our dedicated team is here to assist you from start to finish. We offer quick quotes, prompt delivery, and even same-day service. And with our dumpster rental in Brick NJ, you won't find any hidden fees—just straightforward pricing to make your life easier. Safety is always our top priority, and we go the extra mile to ensure our dumpsters are inspected and sanitized after each rental. Our equipment is regularly checked and meets all safety regulations. We offer flexible rental periods, so you can work at your own pace. Need more time to complete a project? No problem. Run out of room quicker than you expected? We've got you covered!
When it comes to reliable and efficient waste removal, TSF Disposal is your go-to choice for the dumpster rental Brick NJ can depend on. We pride ourselves on offering a diverse range of roll-off dumpster sizes suitable for any project—be it residential clean-ups, commercial renovations, or large-scale industrial endeavors. Our customer service is second to none, ensuring timely delivery and pick-up, so your project stays on track. Plus, our transparent pricing means no surprise fees, letting you budget with confidence. For a hassle-free and responsible waste management solution, make TSF Disposal your first call.
We Take Just About Everything
Some examples of the junk we haul away include:
Refrigerator Disposal

Garbage Removal

Mattress Disposal

Foreclosure Clean Outs
Construction Waste Removal

Yard Waste Removal

Trash Removal

Appliance Removal
Television Disposal & Recycling

Furniture Removal

E-Waste Disposal

Hot Tub Disposal
Dumpster Rental Brick: Clear Debris With Ease
At TSF Disposal, we have the dumpster rental Brick businesses, residents, contractors, and property managers use to complete all kinds of waste removal projects. Whether you're repairing the roof of a rental property, clearing out your property after a heavy-duty storm, or managing an apartment demolition, our commercial-grade bins are used across industries to safely and conveniently contain waste. Are you finally tackling that long-awaited kitchen makeover or finally adding that dream patio? Our roll-off dumpsters are ideal for holding everything from drywall and tiles to old furniture and fixtures. No more hauling bags of debris or filling up your personal truck and taking it to the dump; we've got you covered!

If you're moving, decluttering, or handling an estate sale, our dumpsters are a convenient solution for disposing of old furniture, electronics, and household items. We offer a dumpster rental Brick can rent with straightforward pricing and no hidden fees, so you can tackle your project without breaking the bank.

We've got the dumpster rental Brick NJ can use for commercial, construction, roofing, demolition, and industrial projects too. Our heavy-duty dumpsters are engineered to hold large volumes of construction waste like concrete, wood, and metals. With our prompt delivery and pickup service, you'll keep your construction or commercial site clean and efficient, letting you focus on what you do best—creating a new and improved Brick! For the best dumpster service Brick NJ has to offer, TSF Disposal is here to provide top-quality options at affordable rates. Get in touch with our team to schedule a rental online today!
Dumpster Rentals Brick NJ Homeowners Rely on for Residential Use
Homeowners searching for dumpster rentals Brick NJ can use for residential use will be pleased to find that our dumpster rentals are perfect for cleanouts, renovations, repairs, and more! Our locally owned and operated company is the one you can trust. You may be doing a spring clean, decluttering the attic, or even embarking on a full-blown home renovation. No matter the scale or scope of your upcoming project, we're the residential dumpster rental Brick NJ homeowners use to dispose of everything from old furniture and appliances to yard waste and construction debris.

Our professional drivers will place the bin at the time and location of your choosing so you can get to work. Our straightforward pricing and flexible rental periods allow you to tackle your project at your own pace without any hidden fees or surprise charges. Make your next home project a breeze with the Brick roll off dumpster customers prefer for eco and driveway-friendly dumpster rental service!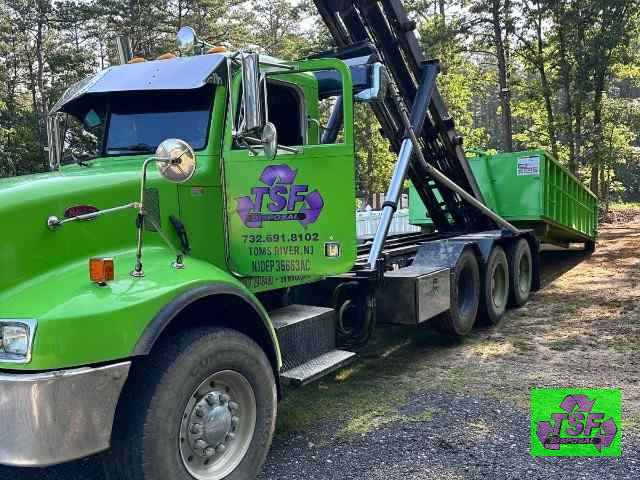 Make Yardwork Work a Breeze With Dumpster Rental Prices Brick NJ Appreciates
We offer the dumpster rental prices Brick NJ appreciates, and our competitive options make us the top choice for yard waste removal. Don't let that mountain of unwanted brush, tree limbs, or waste stress you out! Whether you're undertaking a major landscaping project or just doing some seasonal cleaning, our dumpster rental near Brick NJ is the perfect dumpster to help you complete your outdoor projects with ease. Our versatile roll-off bins are ideal for all types of yard waste—leaves, branches, grass clippings, and even bigger stuff like tree stumps and old fencing. With our easy scheduling and prompt delivery, you can get that yard in control and in great shape in no time. Our commitment to eco-friendly practices means we'll make sure all your green waste gets recycled or composted whenever possible. Say goodbye to multiple trips to the composting facility and hello to a cleaner, greener yard with the budget dumpster rental Brick NJ recommends!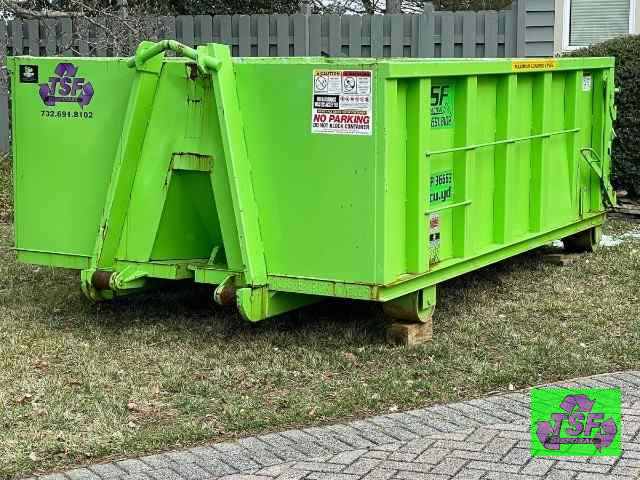 Commercial Dumpsters in Brick NJ for Businesses and Enterprises
Businesses look to our dumpsters in Brick NJ to get the job done right the first time. When you're running a business, waste removal shouldn't be a hassle, which is why our commercial-grade dumpsters are a perfect fit for various industries, from construction and retail to office parks and factories.

With high-capacity options available, you can effortlessly handle bulky materials from projects like general clean-outs, renovations, expansions, and ongoing waste removal with our Brick New Jersey dumpster rental. Plus, our prompt delivery and pick-up service means you can stick to your tight project deadlines and run your business efficiently without a hitch. Choose us and make waste removal the least of your business worries!
Construction Dumpster Rental NJ Brick Contractors Depend On
We have a dumpster rental NJ Brick contractors understand is a premier choice for safely, conveniently, and affordably clearing construction waste with ease. We know that efficient waste disposal is crucial for keeping your project on track and your work site safe. We've got the construction dumpster rental Brick NJ knows is built to handle the heavy-duty stuff—concrete, wood, metals, you name it. With prompt delivery and pick-up services, you won't have to worry about delays or downtime. Our focus is on helping you maintain a clean and productive work environment, so you can concentrate on building something great. For the best local dumpster rental Brick NJ has to offer, look no further than TSF Disposal!
Heavy-Duty Dumpster Brick NJ Roofers Use Year-Round
We've got the dumpster Brick NJ can utilize for the toughest roofing projects! We know that roofing jobs generate a specific type of waste—shingles, nails, and old lumber—and you need a dependable solution for handling it all. That's where our dumpsters come in. We've got the roll off dumpster Brick NJ knows is specially designed to accommodate roofing materials. Our containers make it easy to collect and dispose of everything in one place.

Not only do our cost-effective solutions keep your project within budget, but we also take pride in disposing of the waste in a responsible and eco-friendly manner. Our prompt delivery and pick-up services ensure you stay on schedule, so from start to finish, we've got your roofing job covered, allowing you to focus on delivering quality work to your clients. Trust our team to deliver the best roll off dumpster rental in Brick NJ so you can focus on completing your project!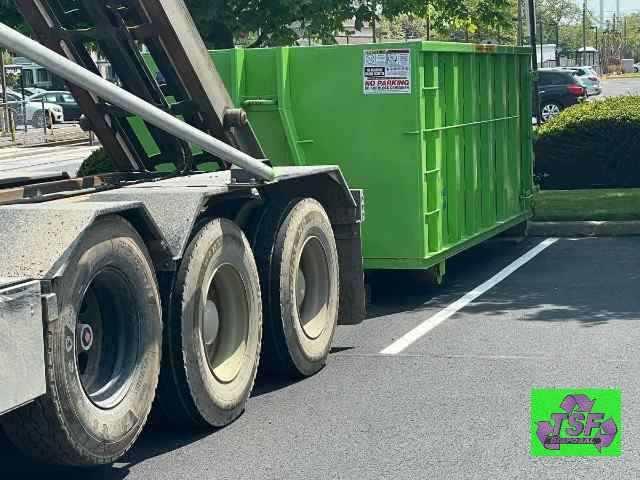 How to Book Our Brick Dumpster Rental Online With Ease
Booking a Brick dumpster rental has never been easier with the help of our streamlined online booking platform! With our user-friendly website, you can secure the perfect dumpster for your project in just a few clicks. Start by choosing the dumpster size that suits your needs, then pick the rental duration that works best for you. Before you know it, you'll be reviewing the final price and completing your booking. Quick, convenient, and hassle-free—what more could you ask for from a Brick dumpster company? Follow the steps below to get started today!

1) Browse Our Fleet of Dumpsters: Look through our list of dumpsters, from 10-yard to 30-yard, to find the right fit for your project. Click the lime green "Book Now" button to start the reservation process.

2) Add to Your Cart: Review the dimensions and base rental inclusions, then click "Add to Cart." Next, select your service type (contractor or homeowner), then click "Continue."

3) Select Your Rental Timeframe: Using our pop-up calendar, select your desired drop-off date and pick-up date. Don't worry if you end up needing a time extension or finishing your project early. We offer flexible scheduling that best fits your schedule and project goals!

4) Review Your Cart: Take a moment to view the details of the most affordable dumpster rental Brick NJ has to offer then click "Continue Shopping" to add additional bins to your cart or "Checkout" to begin the secure checkout process.

5) Provide Important Details: Input your contact and billing information, dumpster placement information, a brief description of the type of waste being hauled away, and any pertinent notes, and digitally sign the rental agreement.

6) Securely Checkout: Submit payment using any major credit or debit card. You'll receive a confirmation email with a digital copy of your receipt and the signed rental agreement. Our team will be in touch leading up to the drop-off date to schedule a delivery window that works best for your schedule.

That's all it takes to book a Brick dumpster rental in no time! If you'd rather schedule a delivery over the phone, our team is available at (732) 691-8102. Let's get started making your waste disposal process as smooth and straightforward as possible so you can focus on completing your project while you leave the waste handling to our team of experts.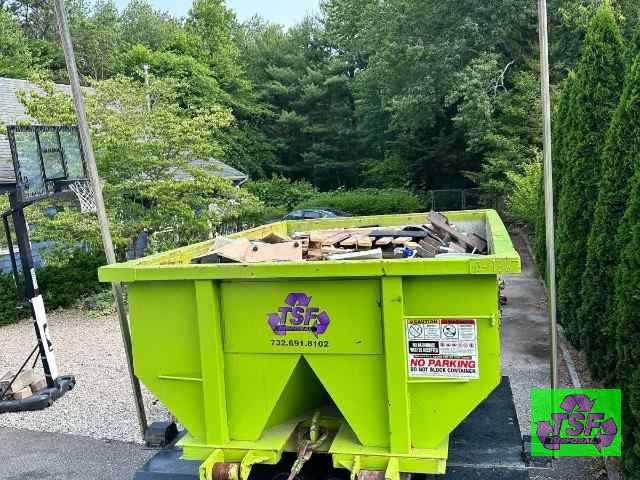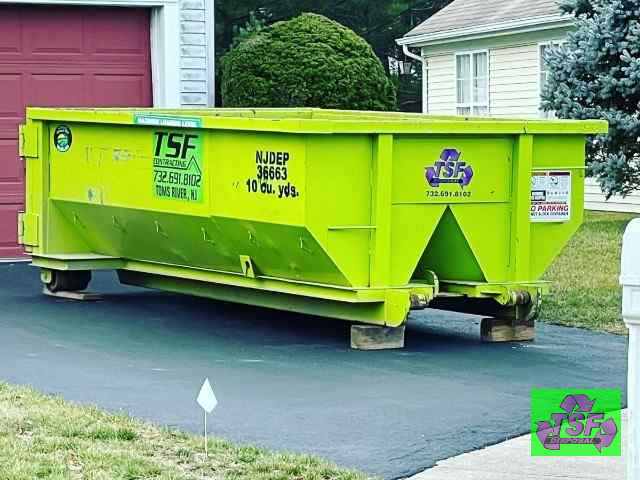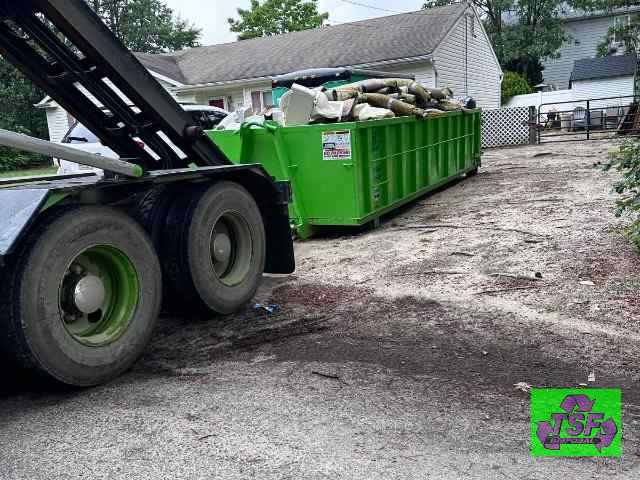 Variety of Brick Dumpster Sizes To Choose From
When it comes to our Brick dumpster selections, we understand that one size doesn't fit every project, which is why we offer a diverse range of sizes to accommodate your specific waste removal needs. Whether you're decluttering a small apartment, renovating a sprawling estate, or managing a construction site, we've got a dumpster that's just right for you. From compact containers perfect for residential clean-ups to large, industrial-grade dumpsters designed for hefty construction materials, our selection ensures you'll find the ideal fit for your project. With our variety of dumpster rental sizes in Brick NJ, you can tackle any job—big or small—without worrying about running out of space or exceeding weight limits with our trash dumpster rental in Brick NJ.

Looking for a compact yet capable small dumpster rental in Brick NJ for smaller projects? Our 10-yard dumpster is the perfect fit. This petite powerhouse measures 12'L x 8'W x 4'H, making it ideal for residential clean-ups and minor renovations. This rental includes a base rental time of up to seven days, with one ton of waste disposal included. Need the bin for a bit longer? Additional days and extra weight are available for an additional fee for each of our dumpster sizes.

Stepping up in size, we have our 15-yard dumpster boasting the best price of dumpster rentals in Brick NJ. With dimensions of 16'L x 8'W x 5'H, this dumpster is excellent for medium-sized home renovation projects or clean-outs. You get a rental period of up to seven days and two tons of waste included in the price.

Planning a more extensive project on your hands? Our 20-yard Brick dumpster rental is the workhorse you need. For $598, you get a spacious dumpster with dimensions of 22'L x 8'W. Designed to handle large-scale clean-ups, remodels, or construction projects, this dumpster includes 3 tons of waste and up to 7 days of rental time. With all of this value for just that low starting rental price, this is certainly one of the best cheap dumpster rental Brick NJ can find.

Last but certainly not least, meet our largest option—the 30-yard dumpster. Available for $695, this large dumpster rental in Brick NJ boasts dimensions of 22'L x 8'W, perfect for the most demanding projects like major renovations or commercial construction. The rental period is also up to 7 days, and it includes a whopping 4 tons of waste.

Whether you're managing a long-term construction project, cleaning out a two-car garage, or handling a residential demolition project on a rental property, TSF Disposal is your go-to Brick dumpster provider.
Delivering Dumpsters Brick and Ocean County Depend On
We contribute to the cleanliness of our community by working closely with the Brick Public Schools, supporting local educational initiatives, and making our community a better place for future generations. We stand out in the community, so our customers no longer have to struggle and constantly search for a "dumpster rental near me Brick NJ." With TSF Disposal on your side, you can book a dumpster in Brick with confidence, knowing that our locally owned and operated company has your back.

We not only value being a part of the community but also encourage our customers to explore the beauty Ocean County has to offer. If you're looking for ways to enjoy the great outdoors, don't miss out on visiting local parks like Windward Beach Park, Forge Pond, and Traders Cove Marina & Park. These natural spots offer the perfect escape for families and individuals alike. If you're interested in the cultural aspects of our community, be sure to check out landmarks like the Brick Reservoir, Havens Homestead Museum, and Metedeconk River. We're excited to provide the dumpsters Brick recommends and thrilled to be part of such an active and vibrant community! Get in touch with our team or book a dumpster in Brick online today.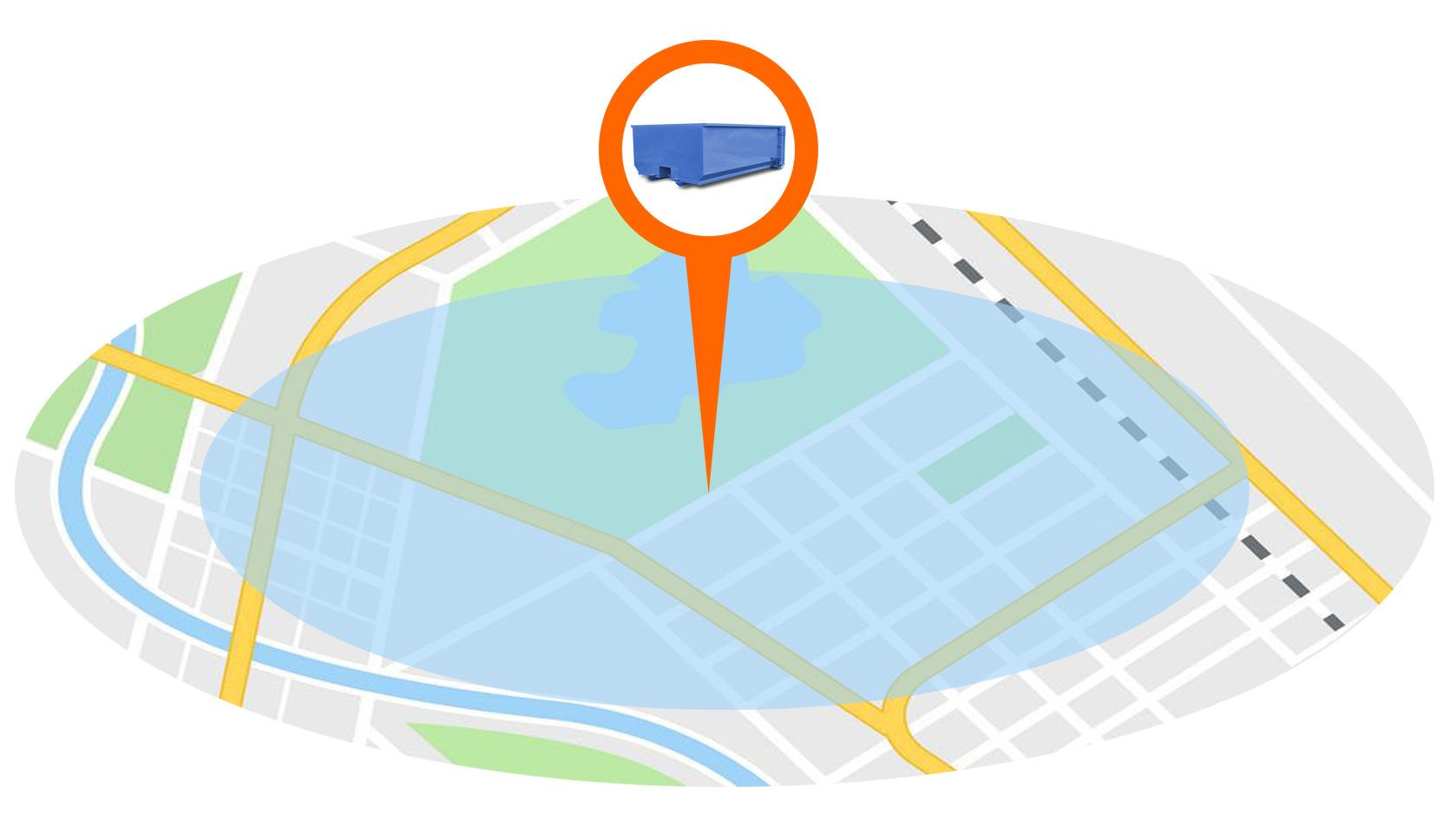 At TSF Disposal, we do more than just deliver the dumpsters Brick and surrounding areas can depend on; we're a proud member of the Ocean County community, diligently serving the 08723 and 08724 zip codes. Our service area includes the surrounding neighborhoods of Toms River, Manchester, Jackson, Lacey, Neptune, Beachwood, Bayville, and Seaside Heights, among other cities. If you've been searching for the best dumpster rental Lacey NJ has to offer, look no further than our team of professionals. Our partnership with the Ocean County Landfill ensures responsible waste disposal, contributing to a cleaner and healthier community. You can rest assured that your waste will be disposed of properly in accordance with all local regulations.
View Service Area
FAQs About Booking a Dumpster Rental in Brick NJ
For all your questions about the best dumpster rental in Brick NJ, read through our frequently asked questions section and get in touch with our team if you need help! Give us a call or text at (732) 691-8102 to get started today!
Q.
How much does it cost to rent a dumpster in Brick NJ?
A.
The cost of a garbage dumpster rental in Brick NJ varies based on the size of the dumpster, the length of the rental period, the amount of waste being hauled away, and the delivery area. For specific pricing, visit our "Dumpster Rental" page or contact our customer service team at (732) 691-8102 for a custom quote!
Q.
How do I book a dumpster online?
A.
Booking home dumpster rentals in Brick NJ can be done entirely online! Just select your desired dumpster size, pick your rental date and times, and review the price before completing the checkout process. If you'd rather speak directly with one of our team members, give us a call at (732) 691-8102 to get started!
Q.
Can I throw away appliances or mattresses?
A.
Our driveway dumpster rentals in Brick NJ are versatile and can accommodate a wide range of materials, but there are some restrictions on hazardous waste. Please check our guidelines for a complete list of prohibited items.
Q.
What areas do you deliver to?
A.
We're proud to deliver our dumpster bin rentals in Brick NJ, and the surrounding areas of Ocean and Monmouth County! Check out our service area page for more information on our delivery region.
Q.
Can my dumpster rental time be extended if I end up taking longer on my project?
A.
Absolutely! We offer options for a flexible dumpster rental in Brick NJ that puts our customers first, and if you find that you need more time, simply reach out to our customer service team to arrange an extension for an additional fee.